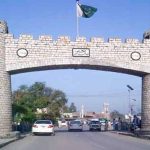 KABUL: At least 10 people were killed and more than 50 injured when a suicide bomber exploded himself near Kabul's international airport shortly after Afghan Vice President Rashid Dostum returned to the country after more than a year in exile, police has said.
Afghan Vice President Abdul Rashid Dostum narrowly escaped a suspected suicide bomb attack at Kabul airport as he returned home on Sunday from more than a year in exile in Turkey over allegations of torturing and abusing a political rival.
Dostum, who left Afghanistan last year amid allegations of torture and abuse, had left the airport in a motorcade only minutes before the explosion, which officials said appeared to have been caused by a suicide bomber.
As many as 10 people were killed and wounded in the blast, said Interior Ministry spokesman Najib Danish.
Kabul police spokesman Hashmat Stanekzai said the blast went off near the main airport entrance, where supporters had been waiting to greet Dostum as his motorcade passed on its way to the city centre.
"The number of casualties may rise. The blast happened right after Dostum's convoy left the airport," he said.
Dostum, an ethnic Uzbek veteran of decades of Afghanis.