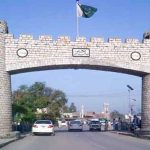 MUZAFFARABAD: At least 10 people were killed in landslide incident in Pothi Chapriyan, Hajira area of Azad Jammu and Kashmir here on Saturday.
Four houses were also completely destroyed due to the landslide.
Rescuers are facing difficulties due to heavy rains in the area, which is going on with intervals.
Hajira Assistant Commissioner Mumtaz Kazmi told 92 News that two bodies have been recovered.
Landslide, 10 lives, Azad Kashmir, Hajira, Pothi Chapriyan, rescue
He said that the number of people buried under the debris is still unknown.