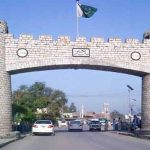 KOHISTAN: At least 10 people were found dead while more than 16 others are still missing when a bus plunged into the ravine upon the breakage of a bridge in the Bagro area of Kandia tehsil in Kohistan district of Khyber Pakhtunkhwa here on Friday night.
According to details, a total of 26 people were onboard in the vehicle and all the victims are said to belong to the same family.
DPO Kohistan asserted that nothing can be said about the casualties yet as accident took place due to breaking of a wooden bridge in the remote mountainous area. "It will take five hours for the police to reach the accident site", he added.
DPO Raja Abdul Saboor further said that six dead bodies have been found whereas 20 people are missing while relief operations are facing problems due to remote areas and darkness.