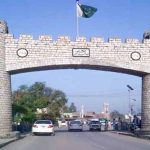 LAHORE: More than ten students sustained severe wounds as clash broke out between two student groups at University of Punjab in Lahore today (Tuesday).
According to details, the scuffle erupted when some students disrupted Pushtun Cultural Day ceremony held at new campus and set the stalls ablaze.
Reportedly, celebration of Holi during the event led to the massive brawl.
Getting information about the incident, heavy contingent of police arrived at the scene and used tear gas to disperse the students.
Talking to media, university management said that strict action would be taken into the matter.
Senior official at the university said that those entering the institution are only students for us.