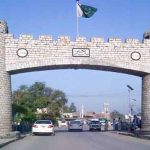 KARACHI: A 10-year-old boy, went missing from Karachi's Saddar area, has been left by unidentified person near his home on Friday, said the family members of the child.
According to media reports, the boy went to study at a seminary at 11:00 am on Friday, but didn't return home till late evening that day.
Over the child's disappearance, the residents of the area took to the streets and blocked the Burns Road, burning tyres.
The minor boy's family members have confirmed that the child has returned home late Friday.
A report about the missing child was also lodged at Aram Bagh police station.
Taking notice of media reports, IG Sindh A.D. Khowaja had directed DIG South to submit a report on the action taken to recover the child.
The disappearance came at a time when the country has already been reeling from the gory incident of rape and murder of 7-year-old Zainab in Kasur.