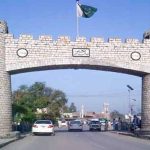 PESHAWAR: As elsewhere, the Youm-e-Ashur, 10th of Muharram, was observed in District Hangu and Orakzai Agency on Sunday with due solemnity and sanctity amid strict security to pay homage to the sacrifices of Hazrat Imam Hussain (AS) and his companions at Karbala.
The main mourning procession which started from the national Imambargah Paskali amidst tight security and went through its traditional routes in the morning, concluded peacefully at the same Imambargah in the afternoon.
A Majlis was held at Pat Baazar and it was addressed by Allama Khurshid Anwar Jawadi. Following the Majlis, the main mourning procession was taken out from Imambargah Paskali and it passed through its traditional route.
The participants of the mourning procession offered `Namaz-e-Zohrain' at the Pat Baazar wherein small procession from Gunjab Kali and Saidan Banda joined the main procession. The mourning procession concluded peacefully. There were strict security arrangements made and the personnel of Pakistan Army, Police, Frontier Corps, and Frontier Constabulary had been deployed for security duty who escorted the main procession.
The mobile phone service in the District was suspended for two-day on the 9th of Muharram Ul Haram and on the 10th of Muharram Ul Haram while pillion riding was also prohibited to ensure peace in the District.
When the main mourning procession of the 10th of Muharram taken out from Hangu Baskali National Imambargah with security officials escorted the procession and went through their traditional routes comprising Mahalah Saidan and Pat Baazar wherein more procession coming from Saidan Banda and Gunjan Kalay joined the main processions.
The procession went through its routes with Alama Khurshid Anwar Jawadi addressed to the mourning procession.
He also threw light on the esteem sacrifices of Shuhad-e-Karbala. There were sabeels on both side of the way of the procession. DPO Hangue Ihsan Ullah, Commandant Tal Scouts Col. Mubashir Nadeem along with other civil and military officials were also present.
For ensuring foolproof security the Jawans of Pakistan Army, Police, Frontier Corps, Frontier Constabulary along with officials of the civil defence were also present. The main procession went through prescribed routes including Shaho Chowk Road, and culminated peacefully at Imambarghah Kalaya.
A total of 11 mourning processions taken out from Dapa to Kalaya Darbar including Suleman Khail, Karaz while three mourning processions taken out from Kalaya Darbar, Karraz Astana Zayrat and Andkhail city at around 6.00 a.m.
All the mourning processions duly escorted by the security forces and police peacefully culminated after passing through their traditional routes in Hangue District and Orakzai Agency.