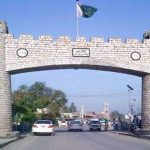 KARACHI— Chinese teachers teaching at the University of Karachi's (KU) Confucius Institute have left Pakistan after three their colleagues and one Pakistani citizen were killed in a suicide attack by a Baloch Liberation Army (BLA) at Karachi University on April 26.
Pakistani director of the Chinese institute Professor Dr Nasiruddin Khan, confirmed the news saying eleven Chinese teachers have left for China.
It is also being reported that Chinese instructors teaching at various institutes across the country have also been asked to leave Pakistan and many of them have left.
Online classes are being considered to continue teaching students the Chinese language.
Academic activities were suspended in the institute as well as at NED after the blast.
KU and Sichuan Normal University in China collaborated to form the Confucius Institute in 2013. It was formed to teach students Mandarin and offer a glimpse into Chinese culture while promoting an exchange of people between China and Pakistan.
Last month, four people, including three Chinese nationals, were killed in a suicide blast at KU.
The deceased Chinese nationals were identified as Huang Guiping, the director of the institute, Ding Mufang from Henan and Chen Sai from Xinjiang.
The blast exposed security lapses in the varsity and the problems in the flow of communication between security and the administration.
It is pertinent to mention here that a large number of Chinese engineers and other workers are working in Sindh and Balochistan provinces as part of China Pakistan Economic Corridor. Many Chinese teachers are even teaching Mandarin to Pakistanis in various Universities and institutes.