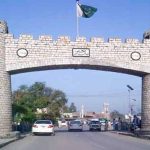 NAROWAL: An 11-year-old girl was raped and then murdered in Narowal, the police said Tuesday.
The girl and her family had come from Kot Abdul Malik to attend a family wedding in Narowal. Three men kidnapped her from the wedding function, raped her and then killed her, the police said.
The suspect left the body in wheat fields and escaped, according to the police.
The police claim that they have arrested the three suspects.