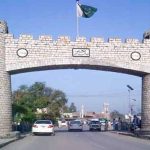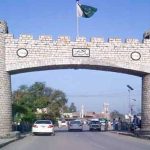 PESHAWAR: Inspector General of Police (IGP) KP Salahuddin Mehsud said that 12 killed including six students, a security guard and five civilians and 32 injured as terrorists attacked the Agriculture Training Institute in Peshawar Friday morning.
Three terrorists have been killed while the identity of fourth was being confirmed, said the IGP while talking to media persons after completion of the clearance operation. KP Senior Minister for Health Shahram Khan Tarakai was present on the occasion.
Terrorists clad in burqa (veil) after disembarking from the tri wheelers stormed the Agriculture Training Institute and opened fire at the security guard who instantly died on the spot.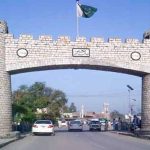 Due to long weekend because of Eid Milad-un-Nabi holiday on Friday, presence of students at hostel was thin. "The terrorists who attacked Agriculture Directorate on Friday morning were wearing burqa (veil) to deceive security man by disguising themselves as women, said Inspector General of Police (IGP) KP, Salauddin Mehsud.
The IGP said due to timely action by the police, elite force, rapid response force and army troops that casualties have been contained to twelve otherwise it would have been in hundreds, had the terrorist entered the other hostels and quarters, he added.
The security forces reached within three to five minutes after the terrorists attack and conducted the operation, the IGP added.
The agriculture directorate comprises a hostel of the Agriculture Training Institute, where there were 60 to 70 students, while over seventy were in the hostel of the provincial housing authority.
There are sixty quarters within the premises of the Agri Directorate where families residing.
There are few housing colonies and a hostel of the KTH doctors adjacent to the Agri Directorate.
The terrorists had reached only one hostel as the forces promptly covered the remaining hostels and the quarters of the families from where the people and students were evacuated in time by the forces.
In reply to a question, he said that a police officer and two army officers among the injured. The coordination between the police and army was excellent which the DG ISPR acknowledged in his statement.
He told the media that huge cache of arms and ammunition have been recovered from the bodies of the terrorists including three unexploded suicide vests, 20 hand grenades, two kalashnikoves, the IGP said the terrorists had links inside Afghanistan.
To a question, the IGP said the KP police killed 70 terrorists and arrested 419 in last seven months.
To a question, Salahuddin Mehsud said that there are 60,000 schools in KP, while the total KP police force comprises 85,000.The KP Police checked 336,965 houses in 2017 and registered 11,492 FIRs against the occupants for not registering themselves with police department. As many as 118,253 vulnerable institutions checked in same period, he added when asekd. He told that 70,002 schools have been issued security advisory by the police
Due to tight security the terrorist now targeting soft targets, he said adding all this was being done under a planning by the terrorist from across the border.
KP Health Minister Shahram Tarakai said the injured would be given full treatment at the hospitals.
Emergency has been declared in the city hospitals.
The peace process that has begun in the province would continue unabated, he said adding the KP Government would leave no stone unturned to achieve desired goal of peace. …APP