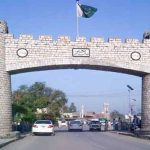 LAHORE: At least twelve persons were killed, scores others injured in heavy rainfall related electrocution and walls collapsing incidents in Lahore and Sahiwal districts during last thirty-six hours.
The provincial metropolis has witnessed a record rain of 252mm yesterday.
Civic agencies are busy in flushing out accumulated water in low laying areas of city.
Meanwhile, Punjab Transport Department has setup an Inquiry Committee to probe into the sinkhole emerged near GPO Chowk in Lahore.
The Punjab Chief Secretary Akbar Hussain Durrani has directed the concerned authorities to complete all necessary arrangements to tackle more rainfall in monsoon season.