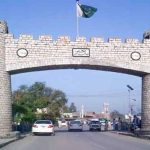 KARACHI: Chief Mminister Sindh has taken notice of the protests staged by the families of thirteen people left for Hyderabad from here but never reached their intended destination. Meanwhile, Home Minister Sindh Suhail Anwar Siyal has directed IG Sindh to trace out the missing people.
According to details friends who left Johar Noman Grand City at 9 p.m. last to proceed to Hyderabad went missing suddenly. The mobile phones of all the 13 friends are off and they neither reached Hyderabad nor have returned home. The families of the missing friends staged a protest demonstration in front of Noman apartments. The protestors said that all the people went missing from Super Highway. The families of the missing people have registered a case at Shahrah-e-Faisal police station.
Meanwhile, DIG Hyderabad has alerted all the police stations located near Super Highway.