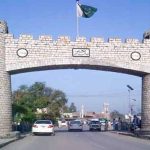 KARACHI: The death toll from "the leakage of mysterious toxic gas" in Karachi's Kiamari area rose to 14 on Tuesday with still no precise clue from federal or provincial authorities.
Provincial health department focal person Dr Zafar Mehdi has confirmed the number of deaths. Out of the total deaths, nine people breathed their last at the Ziauddin Hospital.
Dozens of other patients have been undergoing treatment, with many of them in critical condition, at various medical facilities across the city.
According to the hospital administration, the victims were experiencing respiratory problems, dizziness, vomits and stomachaches. The Hospital has been facing shortage of oxygen, while many patients were being shifted to other medical centers.
It is pertinent to mention here that the source of the leak reported since Sunday night remained unknown till latest updates available with the media.
Meanwhile, residents of the area staged a sit-in outside the Jackson Market and blocked the main road, demanding the authorities to investigate into the matter.
They have also demanded compensation money for the loss of their loved ones. They have also asked the concerned authorities to take an immediate action and use preventive measures on a priority basis.
Officials belonging to federal and provincial departments visited the area to determine the spot or/and cause of the leakage.
Later today, a team of the Sindh Environmental Protection Agency visited the region and inspected a tanker (ship) containing soybean oil.
On the other hand, factories, companies, schools and colleges in Kimari have been closed owing to poisonous gas leakage in the area.