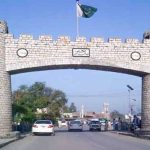 QUETTA: At least 14 persons were injured in a bomb blast during a football match at a stadium in Hub town of Balochistan's district Lasbela on Tuesday evening.
According to the police, unidentified miscreants planted an improvised explosive device next to the wall of the football ground in Allabad area which exploded during a match of the Shuhada police football tournament.
"As many as 14 people watching the football match got injured in the blast that rocked the industrial town," Tariq Elahi Mastoi, district police officer confirmed, added that police rushed to the site along with personnel of security forces and shifted the injured to District Hospital Hub.
Hospital officials said that at least five out of 14 injured people were critically injured and were referred to Karachi for further medical treatment. "Fortunately, no football player was injured in the blast," Mastoi said.
The injured persons include Shah Hussain, Abdul Majeed, Zakir Riaz, Muhammad Yousaf, Amir Hamza, Obaidullah, Hasil Khan, Dur Muhammad, Muhammad Khan, Luqman, Shahnawaz and Ehsanullah.