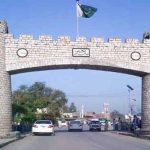 QUETTA: Levies force has found fifteen bodies of people in Bulida area of Turbat district on Wednesday.
According to Levies sources, acting on a tip off, Levies team reached the site and took the bodies into custody which were dumped near Bulida area after killing them by unknown men.
The bodies were shifted to nearby hospital morgue for identification. Further investigation was underway.
Meanwhile, a man died and another sustained wounds in a collision between a wagon and a rickshaw in Hub area of Lasbella district on Wednesday.
According to police sources, the victims were on way to somewhere in a rickshaw when a vehicle hit it which coming from opposition direction due to over speeding.
As a result, a man died on the spot while one other suffered injuries.
The body and the injured were rushed to nearby hospital. Police have registered a case.