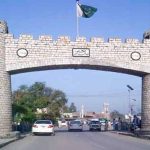 PESHAWAR: At least 16 people died and 20 others injured in rains related incidents in the Federally Administered Tribal Areas and Khyber Pakhtunkhwa.
According to details, nine people died and fifteen injured when roof of a Madrassa collapsed in Mamond area of Bajaur Agency due to heavy rain.
Likewise, four persons died in Khyber Agency and two in Nowshwera.
Similarly, one person died and five injured at Alpuri in Shangla District.
The injured have been shifted to the nearby hospitals for treatment.