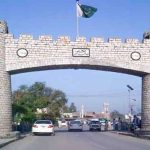 LANDI KOTAL: The 17 young men kidnapped from different picnic spots in Landi Kotal on Sunday are yet to be recovered.
Meanwhile, a 5-member delegation has been formed for search of the abducted persons and talks with the abductees.
Earlier, some local youth from the Gagra villages, Adalkhad early on Sunday morning had gone to picnic spots like Yakha Cheena and Enzaro Naw which are close to Afghanistan border, but did not return to their homes till late in the evening.
Further officials stated, relatives of missing youth reported the matter to them after when one of the abducted man managed to escape from the abductors and safely reached home on Monday morning.
According to the details given by the escaped person, a group of 12 armed men held them hostage and later they were taken to an unknown place.
The search operation to locate and recover the missing youth had been started by the officials.