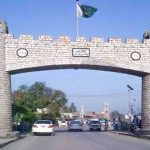 KABUL: An Afghan police official says a suicide bomber detonated his explosives-laden vest among a crowd of shoppers at a market in the country's north, killing 19 civilians.
Deputy provincial police chief Baryalia Basharyar says the attack took place on Wednesday in Faryab province's Almar district.
"This morning a suicide bomber detonated his explosives-laden vest in a market in Almar," said Faryab governor Abdul Sattar Barez.
"Our information shows at least 19 people were killed in the attack, including women and children and at least one Afghan army soldier," he said, adding that around 38 others were wounded.
No group claimed responsibility for the suicide bombing, which comes just before another round of peace negotiations between the government and Taliban militants are due to start.
Taliban insurgents have stepped up their attacks on Afghan soldiers and police in recent months.
Almar has been tense for weeks after the Taliban launched a major offensive and took control of several villages.
Government forces launched a counter offensive earlier this week but have struggled to regain territory, with skirmishes frequently reported between both sides.– Agencies