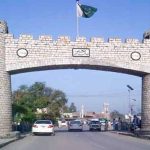 SRINAGAR: In occupied Kashmir, two Indian troops were killed and three others injured in an attack on Indian paramilitary Central Reserve Police Force training center in Lethpora area of Pulwama district, today.
A group of attackers entered the battalion camp of the Reserve Police Force in Lethpora area of the district and opening fire and throwing hand grenades at the camp.
A CRPF spokesman told media that two troops were killed and three others injured in initial firing. He said that gun battle still continued.
Meanwhile, the authorities snapped mobile and internet services in Pulwama district.
Meanwhile, in its annual report released by Mirwaiz-led Hurriyet forum on the human rights situation in Occupied Kashmir it has been revealed that graph of killings has shown an upward trend in year 2017.
The report prepared by the human rights division of the forum, released in Srinagar, says that the year saw 309 deaths of innocent people at the hands of Indian forces in the territory.
It stated that in 2017, the killings, incidents of violence, border firings and curbs on the public movement were witnessed throughout the year.