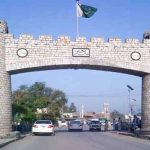 PESHAWAR: Two main accused in Anti-Terrorism Court (ATC) Judge Aftab Afridi murder case have been apprehended, police said on Thursday.
The names of the arrested accused are Muhammad Zaker Shah and Shehzad, belonging to Jag Kaley area of Peshawar. One of the accused has confessed his guilt before the Judge of ATC Mardan and thereby provided that they have fired on Judge Aftab Afridi along with his family members who were travelling on motorway for Islamabad on April 04.
The accused also disclosed that they were armed with SMGs while one of them namely Muhammad Zaker Shah was present in car with Abid Afridi while Shehzad was present with Jamal Afridi.
The accused Muhammad Zaker Shah has recorded his statement u/s 164/364 CrPC while narrating the whole story before the ATC Mardan. Meanwhile, the accused also disclosed names of other co-accused allegedly involved in murder of ATC Judge Aftab Afridi. The course of investigation is under process for further developments in the case. Two main accused of the sad incident have recorded their confession in the court.
The accused arrested in the case include Supreme Court Bar Association (SCBA) President Abdul Latif Afridi, who got anticipatory bail being an alleged abettor, Bilal Afridi, Daud Afridi, Aziz Afridi, Shehzad, Muhammad Zaker Shah.
The ATC Judge Aftab Afridi, his wife Bibi Zainab, daughter-in-law Kiran and her three-year old son Mohammad Sanan lost their lives in the attack on April 04.