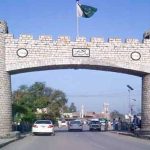 ISLAMABAD: Police, Rangers and intelligence agencies on Sunday launched a search operation in Islamabad and arrested at least 20 suspects.
The raid was conducted in Islamabad s sector I-12 after which security forces detained the suspects including 12 Afghan citizens.
Besides this, 13 wine bottles were during joint search operation from 80 houses.
The arrested suspects were sent to Shams colony police station for further investigation.