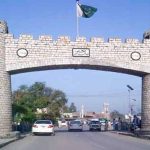 PESHAWAR: At least 20 suspected people were arrested during police search operations in different areas of Peshawar city here on Friday.
Officials said police during their crackdown conducted house-to-house search in Rashid Garhi and surrounding areas of Peshawar, arresting 20 suspects.
The police also claimed to have recovered weapons, pistols, bullets and drugs from the suspects possession.
The police have registered cases and started further investigations.
Peshawar, a gateway to Pakistan's tribal agencies, has been on militants target over the past several years where bombing in busy markets and mosques have killed hundreds of innocent people, causing loss of properties as well.
Police have been conducting search operations across Peshawar in which a large number of suspected militants have been arrested.