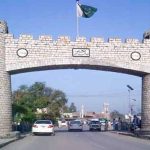 ISLAMABAD: Twenty-two customs clearing agents and importers were arrested on Sunday for causing a huge loss to the national exchequer while importing apples from Iran.
Pakistan Customs spokesperson revealed that 20% duty is applicable on apples imported from Iran while 10% duty has to be paid on apples brought in from Afghanistan.
The suspects imported apples from Iran but paid duty applicable on those imported from Afghanistan, thereby causing a loss worth Rs340mn to the national kitty.
Raids are being conducted to arrest five importers who are involved in the crime, said the spokesperson.