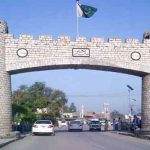 PESHAWAR: As many as 24 people, hailing from different parts of Khyber Pkhtunkhwa province, are said to have gone missing in the war-torn country of Afghanistan.
Addressing a press conference, family members of those allegedly missing said they last contacted their loved ones in September, 2017, but since then there has been no clue to their whereabouts.
They said the missing family members, who belonged to Peshawar, Charsadda, Mardan and other parts of the province, had gone to the neighbouring country in search of greener pastures.
They claimed their loved ones had been confined in Bagram and Pul-e-Charkhi detention centers in Afghanistan by security forces.
The relatives of the alleged missing men demanded that the government should take up the issue with the Afghan government to secure their safe release at the earliest.
Violence has intensified in Afghanistan since U.S. President Donald Trump unveiled a more aggressive strategy in August with U.S.-led forces carrying out more air strikes and the Taliban responding with bombs, ambushes and raids.