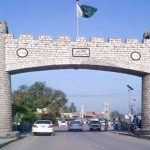 ATTOCK: At least 25 passengers sustained injuries when eight bogies of the Peshawar-bound Khushhal Express derailed between Attock and Mianwali on Sunday, a spokesperson of Pakistan Railways said.
Rail traffic was suspended after the incident took place between the Sohan Bridge and Makhad Road railway stations.
A spokesperson of Pakistan Railways confirmed that a rescue and relief operation is under way for affected passengers and derailed bogies.
A relief train and rescue truck dispatched from Kundian Junction have reached the site of the incident while another rescue truck en route from Peshawar and a relief train dispatched from Rawalpindi are expected to arrive shortly, the spokesperson further added.
Khushhal Express had departed from Karachi on Saturday. It was en route to Peshawar via Mianwali and Attock.