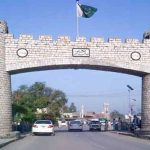 QUETTA : Law enforcement agencies on Saturday claimed claimed to have arrested 33 suspects including Afghan nationals during search operation in Quetta.
According to details, LEA personnel carried out search and strike operation in Quetta's Rind Garh and surrounding areas and arrested 33 suspects including 28 illegal Afghan nationals.
Security forces also claimed to have been successful in grabbing a large stockpile of weapons from the suspects, including 9 mm pistols, a shot gun, revolver, one 12 bore pistol and 22 bore pistol.
All the suspects have been shifted to unknown place for further investigations.
This operation was conducted on information provided by the intelligence agencies on presence of Taliban's suspects.
All the entering and exit points had been closed during the search operation.