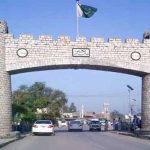 ISLAMABAD: Islamabad police haved arrested 28 activists of the Pashtun Tahaffuz Movement over slogans critical of the army and Pakistan.
The Kohsar police registered an FIR against PTM workers for shouting slogans against the army and Pakistan.
In March, Qila Saifullah police in Quetta booked PTM representatives Manzoor Pashteen, Moshin Dawar and Ali Wazir in a hate speech case. The FIR said Pashteen criticised the army and intelligence agencies.
On Saturday, at least 10 people were injured in a fight that broke out in Wana after a PTM gathering, leading to escalated tensions in the area.