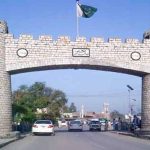 2nd Swat Marathon Held at Malam Jabba yesterday. An overwhelming participation was seen by all age groups; children under 10 years and teenagers, young men and women ranging from 20-63 years. Total number of participants were 127 including children and women. This year more than 300 athletes from all over the world and Pakistan are visited to the tranquil sites of Malam Jabba Valley. Last year, the number of athletes participatrd was around 200. People from all over the country attended this fun filled event. Mr. Ejaz Khan (Conservator of Forest KPK) was invited as the chief guest for the prize distribution ceremony.
This Marathon was aimed to promote winter sports and tourism in the region of Swat, the tracks are (in metres) 5K, 10K, Half 25K, and Full 42K. Exceptional spirit of the enthusiastic runners made it possible to finish the uphill track and win the prize money. Winners from 42KM are; Israr Khatak (1st Position), Fida Hussain (2nd ) and Shahid Abbas (3rd). In 21KM catergory, Sher Khan stood 1st, Wahid Mahmood stood 2nd and Zohaib Shahid stood 3rd. In 10KM category, Sohail Amir took the 1st position, followed by Amir Abass 2nd, and Mubraiz Bhukari 3rd. In category of 5KM, Faizan Ali took the 1st position, Tayyab Gohar took 2nd and Muhammad Hamid stood 3rd.
The other attractions of the events are live performance by Hunza Folk Band, which started off by giving a tribute to Ali Sadpara followed by several instrumental tracks, mash ups in Urdu and Brushiski on which the audience danced to their heart outs and enjoyed the event.