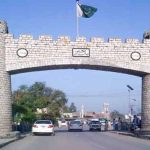 PESHAWAR: At least three children allegedly died from anti-polio injection in Shaheen Muslim Town of Peshawar here on Monday.
According to media reports, four other children were severely infected from the vaccination who were shifted to hospital for medical assistance.
The bereaved parents have said that condition of the children deteriorated after they received the injection last night.
They were immediately shifted to the hospital where they lost the battle of life, the parents added.
On the other hand, the health department while taking notice of the incident has initiated probe of the deaths.