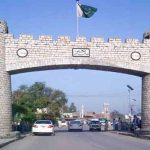 KASUR: As many as three police officers who opened fire on people protesting against brutal killing of seven-year-old girl Zainab have been arrested.
This was stated by the newly appointed District Police Officer (DPO) Kasur, Zahid Khan Marwat during a briefing to the Chief Minister Shehbaz Sharif.
He added that two suspicious people had also been detained while a case against 16 people had been lodged.
Marwat continued that the arrested policemen were being interrogated.
On the other hand, the enraged local besieged civil hospital and chanted slogans against the administration.
The protesters, who also held sit-in at Steel Bagh Chowk, demanded to hang the culprit in public so that no such incident will happen in future.
Zainab was kidnapped six days ago from Road Kot and was strangled to death after being raped.
Police officers recovered her body from a garbage heap near Zaki Ada.
Meanwhile, Shehbaz Sharif said that he had directed the police to arrest the culprit.
The Joint Investigation Team (JIT), to investigate the matter, comprises personnel of Pakistan Army, the Chief Minister said and added that the culprit(s) would be taken to logical end.
However, media reports said that the JIT has yet not reached the house of Zainab.