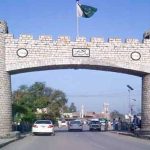 KARACHI: Three terrorists of the banned Tehreek-e-Taliban Pakistan (TTP) were killed in an encounter with law enforcement agencies in the city's Baldia Town area late Tuesday night, said a spokesman of Rangers.
Rangers and the Counter-Terrorism Department (CTD) of Sindh Police conducted a targeted operation in Kaimkhani Colony area of Baldia Town on a tip-off regarding the presence of the TTP terrorists in the vicinity, the spokesman said.
He added that as the police approached a house to search, the alleged terrorists resorted to firing to escape the arrest and were gunned down in retaliatory fire.
The deceased had links to the terrorists who were killed in Urdu Bazaar operation in April last year, and were plotting a terror bid in the metropolis on New Year, the spokesman said.
The LEAs recovered two suicide jackets, two improvised explosive devices, a 9MM pistol, and two SMGs from the hideout of the terror suspects said the spokesman and added that some block bombs were also found in the hideout, which were destroyed through a controlled explosion.