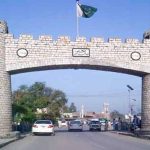 PESHAWAR: The police have arrested more than 30 suspects including criminals in different operations in the jurisdiction of Bhana Mari police station here in the metropolis.
According to a statement of the local police, operations were carried out Qamar Din Garhi and Bahadur Kally.
More than 40 houses were searched during the operations; the statement said and added that above 30 suspects including criminals were arrested.
Weapons and narcotics were also recovered from some of the arrested persons, the statement added.
It said that cases were lodged against the arrested people.