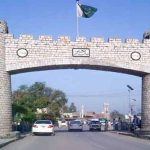 PESHAWAR: In order to maintain law and order situation during Muharram, more than 300 suspected people were arrested during large scale combing operations in different areas of Peshawar.
According to details, police and army personnel conducted combing operations in various areas of Peshawar. During the operation more than 300 suspected including Afghan nationals residing illegally were arrested. Cache of arms and drugs were also recovered from several suspects.
It was decided that search and strike and combing operations will continue in Peshawar to avoid any untoward incident during Muharram processions.