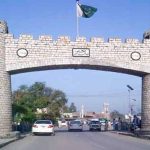 PESHAWAR: More than 50 suspects have been arrested during search operations conducted in different areas of Yaka Toot here in Peshawar on Friday.
According to details, heavy weapons and narcotics were also recovered from one the arrested suspects.
The operations were conducted in Beri Bagh and Lakhti Ghara areas fall in the jurisdiction of Agha Mir Jani police station of the metropolitan city.
As many as 212 houses were searched during the operations backed up by ladies police personnel.
Reports have been lodged against the arrested suspects and investigations have been kicked off.
Meanwhile, police have conducted a holdup operation in Kohat and arrested more than 350 suspects including 52 fugitives.
In a statement issued by the Kohat police, the operation was conducted different urban and rural areas.
A large cache of weapons was also recovered from some of the suspects, the statement added.