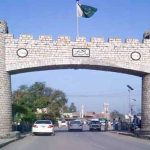 PESHAWAR: 32 frontline workers of the Civil Aviation Authority (CAA) have tested positive at Baccha Khan International Airport, Peshawar as the number of COVID-positive passengers arriving from Gulf countries at the airport has increased to 80, Khyber NEWS reported.
According to details, the airport manager of the Peshawar airport confirmed that 32 frontline workers have tested for COVID-19 at the airport, mainly including members from vigilance and airport services.
The authorities at the airport cited an increasing number of COVID positive passengers' arrival from Gulf countries as the main reason behind spread of the infection among airport staffers.
So far 80 passengers have turn out to be COVID-positive at the Peshawar airport after undergoing rapid testing before leaving the airport premises.
"The airport premises is being disinfected properly and a regular spray is being carried out to avoid a spike in cases among those serving at the airport," the manager said.
It is pertinent to mention here that National Command Operation Centre (NCOC) on May 01 devised new protocols for the inbound passengers, imposing a condition of COVID testing at Pakistan airports.