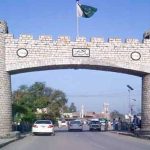 PESHAWAR: As many as 1884 polling stations have been approved for the upcoming general elections in tribal districts of Khyber Pakhtunkhwa out of which, 320 polling stations have been declared sensitive.
Regional Election Commissioner FATA Inayatullah Khan Wazir while talking to Khyber News has said that 13,000 polling booths have been constituted.
He added that close circuit cameras would be installed at sensitive polling stations saying that personnel of Pakistan Army would be deployed in and around the polling stations.
Wazir further said that 403 polling stations have been constituted for men and 327 for women while 1064 polling stations would be combined.