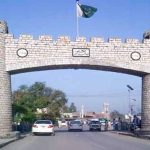 BADGHIS: At least 35 Taliban insurgents were killed and 22 others were wounded in a joint clearance operation of the defense and security forces and support of the Afghan Air Forces in the areas of Bala Murghab district of Badghis province.
The Afghan Ministry of Defense says in a statement that military pressure on the Taliban continue in Badghis by Afghan and Coalition forces to break the siege in Bala Murghab district as the clashes entered the fourth day on Sunday.
The statement said that many weapon caches of the Taliban were destroyed in the airstrikes which according to the ministry will continue until the areas are cleared of the militants.