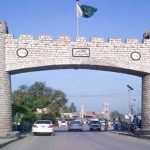 PESHAWAR: The number of the polio cases in Khyber Pakhtunkhwa has reached 36 as a fresh polio case was reported from Bannu.
According to reports, the polio virus affected a 10-month old child from Bannu, taking the total number of polio cases in Bannu to 18.
According to health officials, about 36 out of total 47 cases of polio have been reported in Khyber Pakhtunkhwa this year. The Khyber Pakhunkhwa is worst affected province from the polio virus .