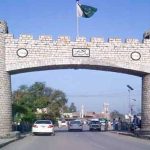 PESHAWAR: The 3rd anniversary of the Army Public School (APS) Peshawar tragic incident is being commemorated today, in which 144 people including students and teachers were martyred.
On Dec 16, 2014 six terrorists stormed the school and martyred around 144 students and teachers. The security forces swiftly responded to the attack and killed all the terrorists.
Special prayers were offered for the martyrs and Quran Khwani was also held at mosques after Fajar prayers.
A function will be held at the Army Public School Peshawar today to mark the day. A memorial of APS martyrs constructed by Khyber Pakhtunkhwa government in Peshawar will also be inaugurated today.
The tragedy that shook the nation brought unity among Pakistan's political stakeholders who set aside their differences and sat together to iron out a counter-terrorism strategy. After the incident, the government chalked out the National Action Plan (NAP) to eliminate terrorism and extremism from the country.