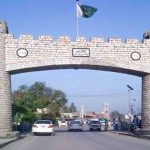 ISLAMABAD: Federal Minister for Finance, Ishaq Dar, while presenting budget for fiscal year 2015-16 in the national assembly, announced one time 4 per cent special tax for repatriation and rehabilitation of internally displaced persons from FATA.
Ishaq Dar said it is proposed that one time tax on rich persons and companies which have the income of more than five hundred million rupees per annum at a rate of four per cent to ensure raising of funds for IDPs which is estimated up to eighty billion rupees.
He said the country needs ample financial resources to ensure socio economic development and betterment of the people. He said the government considers significant increase in the taxes to ensure sustainable economic development of the country.
He said all-out effort has been made to save the poor segments of the society from imposing new taxes and measures will be taken to bring the rich segments of the society in the tax net.
He said measures will be taken to broaden the tax base and reduce the slabs and duty on custom tariff during the next fiscal year.
The finance minister said that to discourage undocumented economy, it has been decided that zero point six per cent withholding tax may would be imposed on the fund transfers and banking instruments. However, the tax payers who file their returns will be exempted from this tax.
He said tax rate on dividend is being increased from ten to twelve point five per cent. However, the tax rate on mutual funds will remain ten per cent.
He said that ten per cent advance income tax which was being received on the bills more than one hundred thousand rupees will now be imposed on the bills up to seventy-five thousand rupees due to decrease in power tariff.
Tax Relief
The Finance Minister also announced several tax relief measures to promote corporate culture and documentation of the economy.
Under the policy, the rate of tax on companies which was 33 per cent this year is being brought down to 32 per cent for the next financial year.
Profit on transmission line projects is being exempted from income tax for ten years to incentivise the private sector to invest in electricity transmission projects. The facility would be available to all those projects that would be launched by June 2018.
He said presently salaried taxpayers with taxable income between four hundred thousand and five hundred thousand rupees pay five per cent tax. This rate is being reduced to two per cent to provide relief to this segment of salaried taxpayers. The rate for non-salaried individuals and association of persons of the same category would be seven per cent as against ten per cent during current financial year.
Incentives to Boost to Construction Sector
Ishaq Dar said various incentives are being announced in the budget to give boost to the construction sector.
He said incentives will also be given to the industrialists so that they could provide more employment opportunities. He said under the green field industrial package of the Prime Minister, tax exemption is being extended up to 30th June 2017. Similarly, he said exemption in sales tax and custom duty on the import of solar panels is being extended up to 30th June 2016.
He said exemption in income tax on the equipment being used for the production of solar and wind energy plants are also being extended for the next five years.
Ishaq Dar said the companies in the business of Halal meat will be exempted from income tax for four years.
The Finance Minister said various tax rebates and exemptions are being announced in the budget for the promotion of fish business, import of agriculture machinery and equipments and production of these equipments besides installation of solar tube wells.
He said to facilitate the people of far flung and under developed areas, exemption of federal excise duty and withholding tax is being given in the civil aviation sector.
The Finance Minister said the government has decided to provide various incentives and tax exemptions in Khyber Pakhtunkhwa to flourish business and industries to overcome the losses incurred due to terrorism and extremism.
Incentives to Exporters
The Finance Minister announced various steps to give incentives to the exporters for giving a boost to the exports in the coming years.
He said special incentives will be given in various sectors of exports, including product diversification, value addition, trade facilitation, enhanced market access and institutional strengthening.
For this purpose, six billion rupees are being allocated in the budget besides taking steps for reconstitution of export development fund.
He said significant measures will be taken to enhance textile exports of the country.
Coming to agriculture sector, the Finance Minister said with the approval of the Prime Minister, it has been decided to issue interest free loans for the installation of solar tubewells and convert the existing tubewells to solar ones.
The Finance Minister said the government is focusing on expanding the volume of small agriculture loans for the benefit of growers and loans worth six hundred billion rupees will be disbursed during the next financial year.
Sales Tax
The Finance Minister said the rate of federal excise duty on cigarettes is proposed to be increased from the existing 58 per cent to 63 per cent to discourage smoking.
Sales tax on import of different varieties of mobile phones is proposed to be increased by hundred per cent.
He said exemptions worth 120 billion rupees given under different SROs in the realms of customs, sales tax and income tax are being withdrawn.
He announced that the power of FBR to issue SROs is being withdrawn and now this power would be used by the Federal Government in special circumstances.
The Finance Minister announced a package of incentives for construction sector.
Bricks and crush is being exempted from sales tax for three years up to 30th of June 2018 so as to bring down the cost of construction.