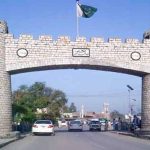 RAWALPINDI: The 4th anniversary of terrorist attack on Army Public School (APS) Peshawar is being observed on Sunday.
A special function has been arranged in the School today to pay homage to the martyred students and teachers of the school.
Similar functions are also being held in other parts of the country.
On this day in 2014, six terrorists had stormed the School and martyred one hundred and forty-seven students and teachers.
The security forces promptly responded to the attack and killed all the terrorists.
After this tragic incident, the government chalked out the National Action Plan to eliminate terrorism from the country.
In his message on the Fourth Anniversary of terrorist attack on Peshawar Army Public School the Foreign Minister Shah Mehmood Qureshi has expressed sympathies with the families, friends and loved ones of all the victims.
He said the horrific and barbaric attack which resulted in loss of more than 130 precious lives, continues to remain a scar on the collective memory of the nation.
He said the attack had shocked the whole nation and also tested the resilience and resolve of Pakistan to fight terrorism and extremism. The tragedy brought the whole nation together and gave us the direction to eliminate this menace from the country.
Chief Minister Khyber Pakhtunkhwa Mahmood Khan says the sacrifices of the students of Army Public School Peshawar will always be remembered.
In his message on the occasion of 4th anniversary of terrorist attack on Army Public School Peshawar, he said the tragic incident shows the brutality of terrorist mindset.
Mehmood Khan said after the tragic incident of Army Public School, the security forces and the whole nation are united to eliminate the terrorism from the society.
Mehmood Khan said that provincial government will always extend helping hand to the bereaved families of APS carnage.
In his message on the occasion, Punjab Chief Minister Sardar Usman Buzdar has said that the young martyrs of Army Public
School Peshawar have written the history of gallantry and courage with their blood for the safe and secured future of Pakistan.
He said that the students and teachers of the Army Public School sacrificed their lives for the attainment of a noble cause.