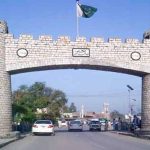 PESHAWAR: A moderate earthquake was felt in parts of Khyber Pakhtunkhwa, including Malakand, Swat and surrounding areas here on Friday.
According to Pakistan Meteorological Department, the earthquake measured 5.2-magnitude on the Richter scale and its epicenter was located in the Hindu Kush Mountains.
People panicked and rushed out of their houses. No loss of life or property has been reported so far.
Last month, a 5.0-magnitude earthquake was felt in Swat, and surrounding areas. "The quake's epicentre was Afghanistan-Tajikistan border region," the Pakistan Meteorological Department (PMD) said.
In January, an earthquake measuring 5.2 on the richter scale was felt in Swat, Chitral, Malakand and adjoining areas of Khyber-Pakhtunkhwa. The United States Geological Survey said the earthquake was recorded as 4.4-magnitude-strong on the Richter scale.