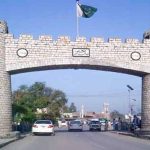 RAWALPINDI: The security forces on Saturday claimed to have arrested five officials of Afghan intelligence in Chak Beli Khan area of Rawalpindi.
According to details, security forces operated upon information in Chak Beli Khan area in a search operation. The Afghan intelligence officials were named as Daulat Khan, Nazar Khan, Nadir Khan, Baaz Khan and Husnain Gul.
Afghan agents were unable to provide any proof of their entrance or residence in Pakistan. According to intelligence sources, the Afghan intelligence officials were Afghan spies and have been shifted to unknown place for investigation.