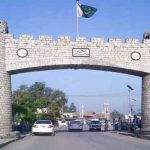 SHEIKHPURA: The counter terrorism department (CTD) Saturday foiled a major terror plot ahead of Muharram by killing at least five suspected terrorists including Kala Qari, a banned organisation's commander, during an encounter in Sheikhpura district.
On a tip off the law enforcement personnel conducted a raid at a farmhouse near Khanpur canal. The security personnel faced armed resistance as they entered the premises and five terrorists including Kala Qari and Kashif alias Kashi were killed during exchange of fire.
Commander Kala Qari was involved in major terror incidents including assassination of former minister for minorities Shahbaz Bhatti and chief surgeon Brigardier Mushtaq. He was also involved in attacks on ex-minister for religious affairs Hamid Saeed Kazmi and NATO vehicles near Rawat and Tarnol.
According to police the killed terrorists belonged to al-Qaeda.Their bodies have been shifted to DHQ Sheikhpura for post-mortem.