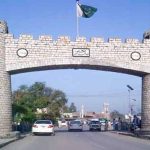 PESHAWAR: The local police have arrested over sixty-four suspects including Afghan nationals in different areas of Peshawar on Saturday.
According to police officials, the police carried out search operation in different areas of the provincial capital and arrested over 64 suspects including ten Afghan nationals for illegally staying in the province.
The police also recovered large quantity of arms and ammunition from some of the arrested suspects. They were shifted to different police stations for interrogation.