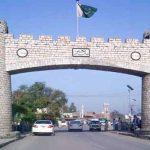 SWABI: At least 70 suspected people were apprehended in a joint search operation of police and intelligence agencies in different areas of Swabi and recovered arms from their possession.
According to details, joint operations were conducted in surrounding areas of Ajmeer Pahar Benazir Women University, Swabi against criminals.
During the search operation, the LEA apprehended at least 70 suspicious beside recovering arms from their possession.
The arrested people were shifted to an undisclosed location for further interrogation.