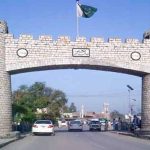 PESHAWAR: The heavy torrential rains coupled with flash floods and earthquake have killed 73 people and injured 31 others in different parts of the province, report says.
The report issued by KP Provincial Disaster Management Authority (PDMA) say that 681 houses were partially and 437 fully damaged while 111 cattle were perished and 11 persons are missing during this period due to flash floods, rain and earthquake in different districts of KP during July 1 to August 2, 2015. .
Giving breakup of the casualties and damages caused to houses and cattle in KP, the PDMA spokesman said most casualties had occurred in rain devastated Chitral district where 34 people were killed and two injured whereas 77 houses were partially and 348 fully damaged due to flash floods and heavy rain on July 27 last.
In Peshawar, four persons died, two injured and one missing while 145 houses partially and seven were fully damaged by the flash floods and heavy rains on July 28.
On August 2, three persons perished, 13 others injured and one missing owing to heavy torrential rain and flash floods in Kohat district. As many as 14 houses partially and nine were fully damaged in Kohat.
The rains and flash floods made havoc in Karak district where nine persons were killed, one missing and partially damaged 100 houses on Sunday last.
In Charsadda, one person was killed and another missing besides 53 houses partially and nine fully damaged by the gushing water on Sunday last.
In Bannu, one person was injured and two houses were partially damaged whereas in Tank, two persons perished in rain related incidents on July 29 last.
In Shangla, five persons died and one injured besides damage to one house and death to 100 cattle heads whereas in Batagram 12 houses partially damaged in rain and floods related incidents on July 28.
On July 30, the PDMA spokesman said the flash floods and rains killed one person and another injured besides damaging seven houses partially and 10 fully and nine cattle were perished in Swat.
Similarly on August 1, in Dir Lower one house was damaged whereas in Lakki Marwat one person was killed, 250 houses partially and 50 fully damaged and in Upper Dir eight persons died and five injured besides two houses fully damaged.
In DIKhan, one person was killed and two others injured in flood and rain related incidents on July 31, 2015. In Buner, three persons injured and one house partially and another fully partially damaged due to floods and rain on Sunday last.
In Abbottabad, four persons died and two injured while 20 partially houses damaged in rain, floods and earthquake related incidents reported on July 30, 2015, the spokesman added.