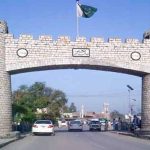 MARDAN: Prime accused in Mashal Khan lynching case, Wajahat Ullah has maintained in his statement before the police that he opposed the views reserved by the victim and security incharge Bilal Bakhsh incited the group to murder the student.
Statement recorded by the police reads that the primary accused used to get into arguments quite often with the slain student.
Wajahat stated that had he not given a statement against Mashal in the office of the chairman, the charged mob would have dispersed.
Abdullah and Zubair, Mashal's two friends shared the like views. Abdullah was tortured by the enraged group before Mashal was murdered.
Wajahat has maintained before the police that his fellow named Mudassar Bashir, representative of the class, called him to the office of the chairman the day tragic incident surfaced. There were 15 to 20 persons already present there at the time he got there, he stated.
Lecturers Ziaullah Hamdard, Pir Asfandyar, clerks Anees, Saeed and Idrees, superintendent Arshad, were among the persons present there. The administration had summoned him to talk over Mashal Khan's controversial views that the majority disliked on the campus, he added.
Had he known what was about to unfold, he would not have gone to the office, the statement reads.
Wajahat has alleged Mudassar Bashir of asking him to become a witness of Mashal Khan's alleged blasphemous conversation while clerk named Idrees maintained that they don't need a communist in the university.
Lecturer Ziaullah recommended the presentees of forming a committee for the cause which was denied by Idrees and Mudassar Bashir, according to the prime accused.
On the occasion, security in-charge Bilal Bakhsh professed that he would kill Mashal which prompted all present on the site to murder the student who hailed from Swabi.
Wajahat Ullah has maintained in his statement that the varsity administration is responsible for the murder more than he is. The administration should not have taken the law in hands and approached the police, the prime accused stated.
"Liability of university administration is much more greater than mine," the statement read.