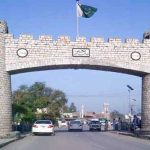 MARDAN: At least 11 people were killed and 41 others injured in a suicide bombing at the entrance of Mardan's district and sessions court on Friday, just hours after a terror attack in Warsak Damr's Christian Colony.
DIG confirmed that 11 people killed in the deadly bombing. Those killed in the bombing includes two policemen and three lawyers, added he.
At least 28 people were injured in the blast as well, of which condition of the three injured said to be critical.
District Police Officer (DPO) confirmed that it was a suicide blast. He said the attacker detonated a hand grenade before exploding his suicide vest adding the suicide bomber blew himself up at the main entrance of Mardan's district and sessions court when the security guard stopped him from entering.
The injured people were being rushed to the District Mardan Hospital and Mardan Complex where emergency has been declared already.
According to rescue 1122 spokesperson, two dead bodies and 20 injured were shifted to the hospital.
The police and security forces rushed the blast site and collecting evidence from the site.