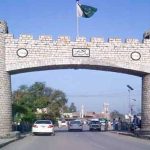 KARACHI: The Counter-Terrorism Department (CTD) on Friday arrested nine suspected terrorists and recovered bombs, suicide jackets, hand grenades and 30 bore pistols from their possession.
After receiving details regarding the planned activities of terrorist outfits in the city during Muharram, a team headed by CTD head Raja Umer Khattab was set up, a press release by CTD stated.
The team discovered that suspected terrorists and alleged members of Al Qaeda in the Indian Subcontinent and Lashkar-i-Jhangvi were planning on employing suicide jackets, hand grenades, bombs and carrying out target killings in Karachi, the CTD said.
The CTD claimed to have discovered a house where the suspected terrorists would meet in secret to discuss their plans.
The CTD said the suspected terrorists were gathered at the house located in North Karachi's 5/B-1. A team of CTD personnel surrounded the house and surrounding areas and ordered the suspected terrorists to surrender themselves.
The CTD claimed the 'terrorists' opened fire at the police and hurled hand grenades at them, to which the police responded by hurling gas shells inside the house forcing them to evacuate to the roof from where they were arrested.