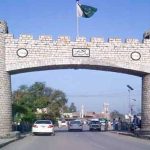 KARACHI: The ninth International Defence Exhibition and Seminar, (IDEAS), 2016, kicked off at the Expo Centre Karachi on Tuesday.
Prime Minister Nawaz Sharif, Army Chief Genral Raheel Shari f, Defence Minister Khawaja Asif, Chief Minister Sindh Murad Ali Shah and others attended the opening ceremony of the International Defence Exhibition and Seminar.
As per details, more than 90 delegations representing 43 countries will participate in the 4th-day Exhibition. A total 418 companies from 34 countries including 157 Pakistani firms will showcase their products in this mega defence event.
The defence industries of Turkey, China, Russia, North America, South America, Europe and Asia will have a significant presence at the exhibition.
These delegations would be led by their respective countries' defence ministers, defence secretaries, chief defence staff and other senior officials.
This year nine new countries are participating in the exhibition because of the successful marketing by the Defence Export Promotion Organisation (DEPO). These countries include Luxembourg, Denmark, Belarus, Poland, Czech Republic, Switzerland, Belgium, Nigeria and Romania.
DEPO Director Media, Commodore Tahir Javed, told a news conference that overwhelming response from the companies from across the world has boosted our confidence, and it proves the success of this mega event.
He said that the holding of IDEAS-2016 is a moment of pride for the nation, and it demonstrates that Pakistan is not behind any one in manufacturing quality defence products.
The Commodore further pointed out the level of positive response can be gauged from the fact that a large portion of Expo Centre has been booked by the defence production companies invited from different countries, including Turkey, China and Russia.
The DEPO Media Coordinator informed that indigenously-built defence products, which include tanks, fighter jets, missile boats, Armoured Personnel Carriers (APCs) and Unmanned Aerial Vehicles (UAVs), and other military equipment will be showcased at the IDEAS-2016.
He pointed that several high-level meetings will also take place between the foreign delegations to promote cooperation in defence production.
Another important feature of the IDEAS-2016 is the International Defence Seminar, which will be held on Tuesday evening at a hotel here. The occasion will be graced by President of Pakistan Mamnoon Hussain.
Besides the exhibition, conferences will also be held on November 23-24 at the Expo Centre. The IDEAS-2016 will conclude on November 25.